TTF has both a Board of Directors and a Board of Advisors. Click on the board members' names to read their bios.
Board of Directors
Maj. Micah Akin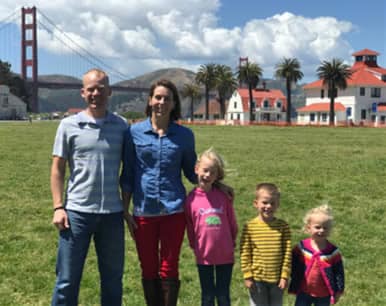 St. Louis, MO
Board of Directors since Aug 2017
Micah was blessed to grow up in a large family where faith-in-action spoke louder than words and through his parents' biblical shepherding, God drew Micah to Himself at a young age. Micah's wife Robin accepted Christ during her first tour in the Navy as a P-3 NFO. Micah and Robin met at an OCF White Sulfur Springs retreat where their shared love of Jesus and desire to raise a God-fearing family drew them together. They now homeschool their three children and seek to encourage others they meet in their love of Christ.
As a Communications Officer, God has led Micah and his family through adventure tours to Quantico, Cherry Point, Yuma, Monterey, and now the Pentagon where Micah is "paying back" his Masters Degree from Monterey, CA as a Cyber Systems Officer in the new DC for Information office.

Maj John Dalby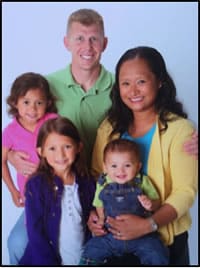 From Arnold, MD (US Navy Brat)
Board of Director since 2006
Currently serving as BoD Vice President
Having been blessed with a godly heritage, John accepted Jesus Christ as his Savior as a young child and was baptized. He continued to grow in his faith through family devotions, church involvement, and OCF at the Naval Academy. He was commissioned in 2003 as an Infantry Officer. He has deployed on multiple occasions and has served operationally in Camp Lejeune (3/8) and 29 Palms (2/7). Schools and b-billets have taken him to MCRD Parris Island, SC; Fort Benning, GA; and Arlington, VA. He is currently serving in Quantico, VA. He was married in 2005 to Leizl, who came to Christ through Young Life while in high school. Leizl is a former Marine Corps Adjutant and now serves as a full-time "Mommy" for McKenna (7), Ainsley (5), and Asher (1). They currently attend church at the MCB Quantico Contemporary Worship Service and host a Friday evening small group.
CWO4 David Pedraza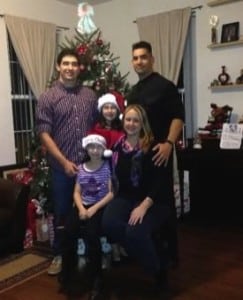 From Miami, FL
Board Member since 2015
Dave was born again 22 July 1979 at the Circle C Youth Ranch, in Miami, FL, and baptized in 1986 at the 1st Baptist Church of Westwood Lake by Pastor Marvin Gochenour. His wife Dawn was born again in mid-1991 and baptized that same year by Pastor Gochenour. All five kids are born-again and both of Dave's parents and two younger brothers, also married, are born-again, professing Christians. Dave's parents are retired and living in Las Vegas, Nevada where they are active at the Shadow Hills Baptist Church (Pastor Michael Rochelle).
Dave has multiple OEF/OIF and MEU deployments in addition to a variety of external agency training required in the 0210 MOS. He is currently serving in an external assignment in VA and has served in a variety of FMF and external agency assignments both as an enlisted Marine and as a Chief Warrant Officer. By God's gracious redemption and restoration, he was remarried to Dawn M. Pedraza in 2000, and Dawn is a DoD Elementary School teacher at Crossroads Elementary on MCB Quantico and the mother to their five children: Christopher (27), a Marine Sergeant; Angel-Marie Matos (26), Christian school-teacher and the wife of New Life Church Worship Leader Manny Matos in Reston, WA; Alexander (23), a junior in college; and war-babies Genna (14), and Annalisa (12). They currently attend church at Mt. Ararat Baptist Church in Stafford, VA. The Pedrazas will PCS to Korea in the summer of 2017 and look forward to sharing the TTF vision there.

Mr. Aaron Root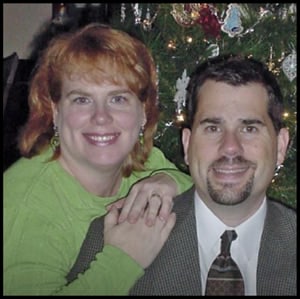 From Woodbridge, VA
Board of Director since 2014, Currently serving as Treasurer
Aaron was born in St. Paul, Minnesota; spent some time in Wisconsin, and currently resides in Northern Virginia since 2002.
Faith:  Raised by believing parents, but in a sectarian church where the gospel was obscured. It was well into adulthood before he truly grasped the good news.
Family:  Married to Vania (TTF's financial administrator) since 1991. They have three children: Matthew (19), Catherine (17), and Daniel (15).  Vania is a quilter and crafter; Matthew, a recent high school grad, loves the outdoors and is preparing for his USMC enlistment; Catherine, a rising senior, is looking at colleges and wants to become an elementary teacher; and Daniel, a rising sophomore, runs cross country and is interested in studying marine engineering.
Church:  Member of Crossroads PCA since 2005, and serving as a ruling elder.  He teaches adult Sunday School now and then, strums a guitar with the worship team, and oversees the budgeting process.
Education:  BS business/accounting, University of Minnesota, 1990. Some post-grad work at Reformed Theological Seminary, Washington DC campus.
Employment:  Employed by City of Manassas Park, VA, as a treasurer, collecting taxes (yes, it's fun), doing revenue accounting (even more fun), investing funds, and authorizing payment of the bills.
Capt. Aric Ramsey
From Detroit, Michigan
Aric struggled to comprehend Christ throughout his early years and into college. It was there, after long hours laboring over the word, that the Spirit made those concepts clear and he accepted Christ. Hannah was blessed to love and call upon the Lord from a very early age, and has only continued in her maturity and walk since then.
Aric was commissioned in 2013 as a Communications Officer. Following communications school, he became the Communications Officer for 3d Battalion, 1st Marines. He deployed on the 15th MEU with them in 2015, and now serves at the Marine Corps Cyberspace Operations Group.
Hannah and Aric were married in 2014. Hannah is trained in clinical psychology and now works as a full-time Mom to their young son Robert. They are members at Hope of Christ Church in Stafford, VA and co-host a Friday evening small group. Additionally, they sponsor TBS students as a home away from Camp Barrett.

LtCol (Ret) Mike West
From San Diego,
CA (USMC family)
Board of Director since 2006
Currently serving as Director, TTF
Having been blessed with a godly heritage, Mike accepted Jesus Christ as his Savior as a young lad. He continued to grow in his faith through family discipleship, church involvement, Young Life, and OCF at Penn State and through his career.
He was commissioned in 1985 as an Infantry Officer. He has deployed on multiple occasions and has served operationally from Hawaii (1/3), Okinawa (1/3), Camp Lejeune (3/6; 24 MEU, 2dMarDiv,
Unitas, II MEF, and 2nd MEB/TF Tarawa). Schools and b-billets have taken him to Fort Benning, GA; Bridgeport, CA; NPS, Monterey, CA; Quantico, VA; Naples, Italy; Portsmouth, UK; and
HQMC, DC. He is blessed to currently serve as Director, TTF and NCR Network Missionary operating out of Stafford, VA.
He was married in 1985 to Michelle, who came to Christ in college at Penn State. Michelle is a former Labor & Delivery Nurse and full-time "Mom" who now serves over 650 children as their elementary school nurse. Their 3 children are Lindsay Malia Kai Kuntz (Texas A&M 2011), Joshua Brooks (William & Mary, 2015), and Bethany Taylor (Univ of Alabama, 2017). They currently attend church at Mount Ararat Baptist and host a Sunday evening TBS small group, while Mike also facilitates the Sat morning "Breakfast and Bible" at the local Tun Tavern Inn and a Wed morning "Wallbuilders" Bible study.
Board of Advisors
LtCol (Ret) Jim Diehl
US Army Brat
Board of Advisors
Raised in a religious home, Jim was led to the LORD by his roommate at USNA. Commissioned in the Marine Corps in 1974, he commanded three times in 6th Marines (slow learner?) and served as the Regimental XO in 3rd Marines (Rein).
The only two investments with eternal consequences are those involving the Word of God and the souls of men/women—and God's blessed him with lessons in and dividends from both, through infantry assignments, sea duty, an tour with French Marines in Beirut, three joint assignments (clustered topically around counterterrorism and counterinsurgency), and one acquisition assignment (Infantry weapons/Raids and Reconnaissance). Retired in 2002, he was recalled to active duty, and subsequently re-retired…(again, that slow learner thing).
His first wife left the family in 1989. God is gracious and adept at re-creation. Jim re-married in 2007. He remains a strong believer in the need for fathers…especially for the fatherless. All of the kids are now grown and established, and he and Dawn are enjoying the wonderful world of grandkids!
Jim currently works for the US Government as a federal civilian in the northern Virginia area. He encourages believers to pray for revival in America. Pray as if the future of our Republic depends upon it. It does.
LtCol (Ret) Karl Johnson
From Chicago, IL
Board of Advisor since 2015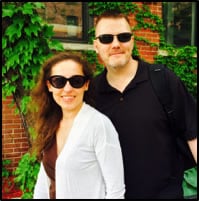 KJ works for Ravi Zacharias International Ministries as the Operations Director for U.S. Ministries; he also serves as the Director of the C.S. Lewis Institute in Chicago. KJ retired from the Corps in 2012, and his primarily roles while on active duty were assault support helicopter pilot, Weapons & Tactics Instructor, and operations officer. He's a veteran of multiple MEU and OEF deployments, as well as multiple humanitarian assistance/disaster relief missions — most notably Operation Unified Assistance (2004 tsunami). He served on the TTF Board of Directors for nearly seven years, two of which saw him serve as the TTF Vice President; he transitioned to the TTF Board of Advisors in June of 2015. Upon retirement, he returned to his hometown of Chicago to pursue graduate studies at Trinity Evangelical Divinity School (TEDS). He's a C.S. Lewis Fellow and holds a Masters in Military Studies (USMC CSC) and two Masters of Arts, one in Philosophy of Religion (TEDS) and one in Systematic Theology (TEDS). He has been married to Nidia since 1995 and they have two grown daughters, Selena and Sara.
LtCol (Ret) Bill Wright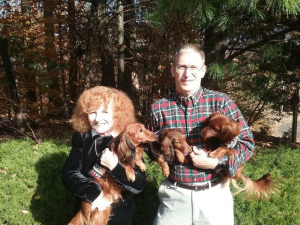 Bill and Mary Wright
Born:  Tacoma, Washington
Children:  Two grown sons – David (41) and LCDR Steven, USN (32)
Dogs:  Blizzard, Rascal, Rebel
Faith:  I was raised in a nominal Christian home, but attended a fundamental Presbyterian church while growing up and accepted Christ as a child.  While attending college I was in InterVarsity Christian Fellowship and attended an excellent Bible-teaching nondenominational church.  I met my future wife in a Bible study I hosted and we attended church together.  After college, I worked for a year at Boeing and then joined the Marine Corps.  Mary and I were married after I graduated from TBS.  We were stationed in Hawaii, Okinawa, California (3 times), Quantico, and Tampa.  We returned to Quantico for the final seven years of my career.  We attended primarily nondenominational churches where we both served in a number of capacities over the years.  I have been a church treasurer for 25 years.
Other ministries:  Officers Christian Fellowship in the past.  We also support the Institute for Creation Research, Grace Evangelical Society, CareNet Pregnancy Resource Centers, and Central Union Mission, DC.  We also sponsor children through two Christian organizations as well as schools in Bangladesh.
Church:  Calvary Baptist Church, Woodbridge (an independent Baptist congregation)
USMC Active Duty (27 years):  Data Systems Officer, Operations Research Analyst, Communications Officer.  Retired as a lieutenant colonel in 2001.
Marine Civilian (13 years):  Operations Research Analyst, Information and Education Technology Director, MCU
Current Job:  CPA and IT Auditor, Kearney & Co
Education:  Washington State University (BA, Math; BS, Computer Sci, 1973), Naval Postgraduate School (MS, OR, 1980), ICAF (now Eisenhower School, NDU; MS, National Resource Strategy, 1998), Keller Graduate School of Management (Master of Accounting and Financial Management, 2011).