SgtMaj (Ret) Mark and Tova Byrd: SNCO/NCO Network Development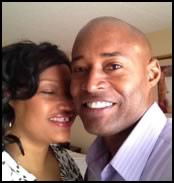 SNCO/NCO Network Development
Born: Pontiac, Michigan
Married to Tova Byrd. We met during the summer of 1981 through a mutual friend. In 1989 we were married in Las Vegas, just as I was reporting to my second duty station, and she was being discharged from the Marine Corps.
Children: (3) Two boys: Mark Jr., Quamaine, and our daughter, Quaniqua. Mark served in the Air Force and now works for Space X, Quamaine is in the Air Force at Travis AFB, and Quaniqua is a licensed esthetician, and is currently attending school to become an Occupational Therapist.
Faith: I accepted Christ into my life as a child. But it was during a MEU deployment in 1993 where I was lead to rededicate my life, and I have been following Christ ever since.
Church: Grace Church in Dumfries, VA, under the leadership of Bishop Derek Grier.
USMC: Enlisted in 1985, basic rifleman MOS (0311). Duty stations included: 1st Battalion 7th Marines; 1st Battalion 8th Marines; School of Infantry East; MCRD San Diego; 2nd Battalion 7th Marines; I&I Duty Wyoming, Pennsylvania; HMLA-169 MCAS Camp Pendleton; Fitness Report Branch, Quantico; and Base Sergeant Major, MCB Quantico. I retired in September 2015 after serving 30 years on active duty.
College: Associates degree in general studies from the University of Phoenix, and a Bachelors degree in Business Administration (Human Resources Management). Tova has a Bachelors degree in Management(Human Resources Management) from Park University.
TTF: I was introduced to Tun Tavern Fellowship while serving as the Base Sergeant Major at MCB Quantico. I met Mike West during our weekly FOSL Bible study.

Chaplain CDR (Ret) Ken and Gwen Counts: Camp Lejeune and MCAS Cherry Point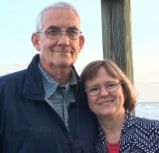 Camp Lejeune and MCAS Cherry Point
Born: Montgomery, Alabama

Married to Gwen Hard who was born and raised in Pusan, Korea,  daughter of OPC missionaries.  We met while attending Covenant College,  Lookout Mtn., GA. and married while attending seminary.
Children: (3) Nathan, Lander WY; April, Pontiac, MI; and Joel, Morehead City, NC.
Faith: The Lord brought me to Himself during my teens through the faithful ministry and care of my pastor who talked me into attending a Christian summer camp where I responded to the Gospel and received new life in Christ.
Church: Harvest Presbyterian, PCA, pastored by Grant Beachy. I am an ordained minster of the Gospel and am a member of Eastern Carolina Presbytery (PCA), now honorably retired.
USN / USMC: Navy Chaplain, 22 years, retired in 2015. Tours of Duty: 3DMARDIV, Okinawa; Marine Barracks, 8th & I, Washington, D.C.; USS CAPE ST GEORGE (CG-71); MCRD San Diego; MAG-13, Yuma, AZ; USS HARRY S TRUMAN (CVN-75); Deputy Base Chaplain, Camp Lejeune; MARCENT FWD, Bahrain; HQ Regiment, 2nd MLG, Camp Lejeune.
College: Covenant College, B.A.; Reformed Theological Seminary, Jackson, MS, M.Div.; Trinity Evangelical Divinity School, Deerfield, IL., Th. M.
TTF: Chris Miller sent Chris Braddy into my life one day in Yuma.  Braddy recruited us to lead the Tuesday evening fellowship at the Jacksonville Inn in 2010. This we did for 5 years while I was still on AD until Jeremiah and Steve came on deck.
LtCol (Ret) Mike and Michelle West: Quantico, HQMC, USNA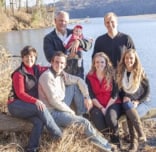 Quantico, HQMC, USNA
Board of Director since 2006
Currently serving as Director, TTF
From San Diego, CA (USMC family)
Having been blessed with a godly heritage, Mike accepted Jesus Christ as his Savior as a young lad. He continued to grow in his faith through family discipleship, church involvement, Young Life, and OCF at Penn State and through his career.
He was commissioned in 1985 as an Infantry Officer. He has deployed on multiple occasions and has served operationally from Hawaii (1/3), Okinawa (1/3), Camp Lejeune (3/6; 24 MEU, 2dMarDiv,
Unitas, II MEF, and 2nd MEB/TF Tarawa). Schools and b-billets have taken him to Fort Benning, GA; Bridgeport, CA; NPS, Monterey, CA; Quantico, VA; Naples, Italy; Portsmouth, UK; and
HQMC, DC. He is blessed to currently serve as Director, TTF and NCR Network Missionary operating out of Stafford, VA.
He was married in 1985 to Michelle, who came to Christ in college at Penn State. Michelle is a former Labor & Delivery Nurse and full-time "Mom" who now serves over 650 children as their elementary school nurse. Their 3 children are Lindsay Malia Kai Kuntz (Texas A&M 2011), Joshua Brooks (William & Mary, 2015), and Bethany Taylor (Univ of Alabama, 2017). They currently attend church at Mount Ararat Baptist and host a Sunday evening TBS small group, while Mike also facilitates the Sat morning "Breakfast and Bible" at the local Tun Tavern Inn and a Wed morning "Wallbuilders" Bible study.